Freebies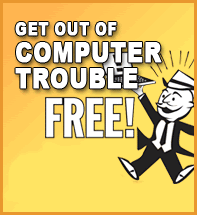 As a company business owner with at least 10 PCs, I understand that I am not obliged to do or buy anything by signing up for this offer. For free, an IT On Demand representative will contact me to schedule an appointment for an engineer to come to my office to conduct a complete health check of my network to:
Diagnose any computer problems you are experiencing.
Check your network's security against intrusions, virus infections and malware attacks.
Review your network and data backup processes to ensure they are working properly.
Check that your computer and network equipment does not have any service failures or critical alerts.
Provide system utilization reports to pinpoint current and potential service interruptions.
Discuss any projects or upgrades you are considering or even give a second opinion on a quote you received.
To have one of our representatives contact you, please fill out the form below

*IMPORTANT:
We HATE spam as much as you do and will not rent, share, or sell your information with anyone ever! We will only use your information to communicate with you directly, and you can remove yourself from our list at any time with one simple click.